Ever needed to do fast head texturing? Empower your skills with more than 1000 Premade Head Textures ready to be used at your fingertips. We have prepared a qucktip how to speed up texturing process in Substance Painter. Perfect for tricky diffuse textures such as lips, scars, skin colour picking or even for texturing of full head as seen in our pro tutorial.
1. Pick a default skin material to have skin parameters set properly.
2. Add a new fill layer. This layer will hold your diffuse texture.
3. Rename your fill layer to ''LIP lower''. Import (click & drop) your preferred Premade Head texture to Substance Painter. They will appear in bottom row. Click & drop your texture to Base colour field. At this point texture will overlay your model and you can change the size and position of texture nicely cover bottom lip part.
4. Right mouse click on the ''LIP lower layer'' and pick ''Add black mask''. Texture will be more temporarily hidden. Seleck just created mask and pick ''Add paint''. Select ''Paint'' and with brush reveal just lower lip area.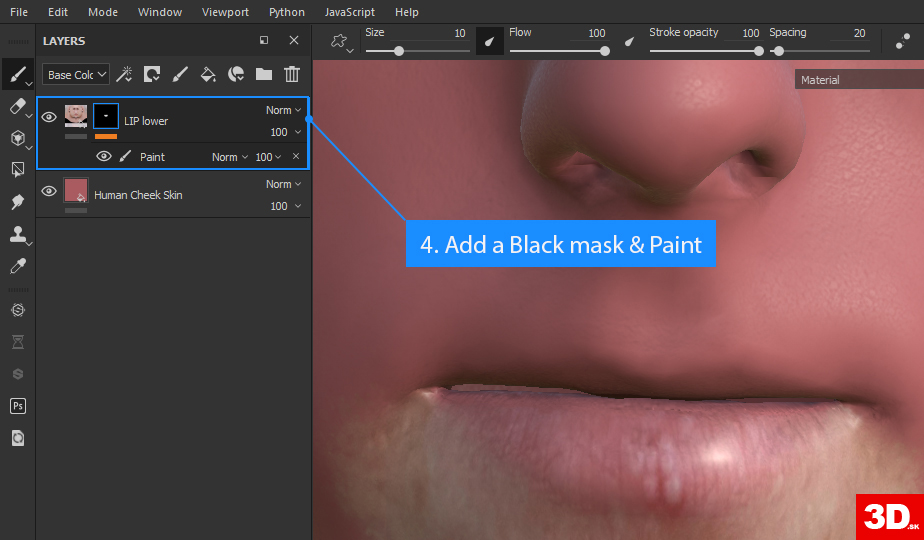 Use the process for any part of the head of full head texture. Take a look at our Premade Head texture gallery.